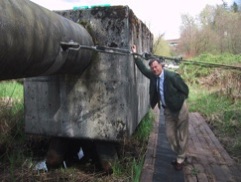 Consider water, power, gas and other utility and lifeline infrastructure to address earthquakes and other hazards in a cost effective manner.
SERA Version 9.3 Software (64 bit)
Latest Features:
Gas Transmission and Distribution Systems (every Pipe)
Power Distribution Systems (every Feeder, every Wire).
Cable Slack Analysis. Rigid Bus Analysis.
Combined seismic and aging model, benefit cost analysis to evaluate repair or replacement strategies for buried water pipes: corrosion, wire breaks, leak history.
EBMUD, ACWD, SFPUC, San Diego County Water Authority, City of Redwood City, Portland Water Bureau, City of San Diego, City of Everett, City of Palo Alto, Santa Clara Valley Water District, Town of Hillsborough
Pacific Gas and Electric, Bonneville Power Administration, British Columbia Hydro, San Diego Gas and Electric, Southern California Edison, PacifiCorp, TransElec, Rocky Mountain Power
Caltrans, Bay Area Rapid Transit
Earthquakes: Shaking, Liquefaction, Landslide, Surface Faulting
Wind Storms: Hurricane, Winter Storm, Santa Ana
Ice Storms: Glaze, Rime Ice
Fires: Fire Following Earthquake, Wildland Fires
Aging Infrastructure
G&E Engineering Systems Inc.
P.O. Box 3592
Olympic Valley, CA 96146-3592